Selecting the right tires for your vehicle is an important decision. Several factors you need to consider when purchasing tires are value, safety and performance. We work with you on selecting tires that fit both your needs and your budget
We offer most major brands of tires. These are a few of our preferred brands.




Tires Questions and Answers
Q: At what mileage interval should I rotate my tires?
A: Experts recommend you rotate your tires every 5,000 to 7,500 miles. While this is a good rule of thumb, your vehicle's exact interval will depend on its drivetrain and your driving habits. More aggressive drivers in the Elkton area may need to rotate their tires more often. Our experts at Chesapeake Service Center can work with you to determine the tire rotation schedule that will work best.
Q: What are the advantages to rotating my tires?
A: The main advantage of getting your tires rotated is to even out the tread wear of your tires. Evenly worn tires contribute to a smooth and comfortable ride. Rotating your tires consistently can also extend the life of your tires. It can enhance safety by helping to prevent pulling and an uneven grip between the tire and the pavement.
Q: How do you check tire pressure?
A: First, remove the cap from the air valve on the tire and put it somewhere you won't lose it. Press the tire gauge against the open valve stem for a second or two. Next, read the air pressure gauge. Compare the number on the gage with the recommended tire pressure from your car's owner's manual or the sticker that should be next to the driver's side door opening. Finally, replace the tire's air valve cap. You can also bring it right here to Chesapeake Service Center.
Q: Does my tire warranty influence my rotation schedule?
A: Tire manufacturers know that tire rotation is important for even tread wear. Tire mileage warranties are most often set by the manufacturers with tire rotations included. Failing to rotate your tires may void your tires manufacturer warranty.
Q: What throws tires out of balance?
A: If you hit a curb or pothole your wheel-tire assembly can get out of balance. Everyday wear on tires and wheels can also cause an imbalance. Many experts recommended that you get your tires balanced every 5,000 to 7,500 miles or every 2 years. If you buy a new set of tires, you may find that tire balancing is included in your purchase. At Chesapeake Service Center, we can check your tire balance and make any necessary adjustments for you.
Q: How do you check tire tread depth?
A: Check all of your tires in multiple locations by inserting a penny into the tread groove on your tire with Lincoln's head facing toward you and the top of his head touching the tire. If you can see all of Lincoln's head, your tires are worn out and you need new tires. Of course, you can bring your vehicle to Chesapeake Service Center in Elkton and our experts can check it for you.
Q: How does snow tire usage influence rotation decisions?
A: If you have snow tires check your tire pressure and rotate your winter tires on a regular schedule. Rotating snow and winter tires is important to maintaining even treadwear and preserving maximum traction in icy conditions.
Q: Is it okay to mix tire brands on a car?
A: Sometimes mixing brands and models on your car is unavoidable, but having a complete matching set is best. If possible, use the same tire on the front or rear wheels. While it's not usually advised, you can mix different tire brands on the same car, if you follow a few simple guidelines. Those include: never mix winter tires with all-season or summer tires; and to not mix run-flat tires with non-run-flat tires. For guidelines in the Elkton area, give us a call at
410-620-3636
.
What our clients are saying about us
We have established longterm and stable partnerships with various clients thanks to our excellence in solving their automotive needs!
More Reviews

Very Professional and Pleasant People , Extra Fast response time , won't rip you off!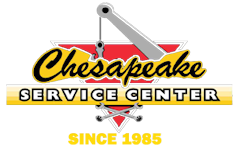 Chesapeake Service Center in Elkton is the best. I've been going there for almost (Or over) 10 years. Highly recommend. In less than an hour, they were able to get to my location after I broke down in the middle of the road. Same day they told me what was wrong and had already fixed it for the best price ever. I love them!!!